The new iPad's screen has been the talk of the tech town since the device released yesterday. The so called 'Resolutionary' screen comes with a  2,048 x 1,536 resolution with 264 pixels per inch, which is lower compared to the 330 PPI on the iPhone 4S. In terms of the evolution in resolution as Apple claims, it's a giant leap from it's predecessor, the iPad 2. The iPad 2 offers 1024×768 resolution with 132 pixels per inch. With the new iPad, Apple has decided the time is ripe for a brighter, sharper screen with a much higher resolution, and the impact is clear to see.
At Mr. Geek, we've decided to take this further, by analysing the images to come up with a more robust comparison. As you can see, in terms of pixel to inch ratio, the new iPad is the clear winner. What is more astonishing is the clarity, contrast and depth that is seen on new iPad's screen.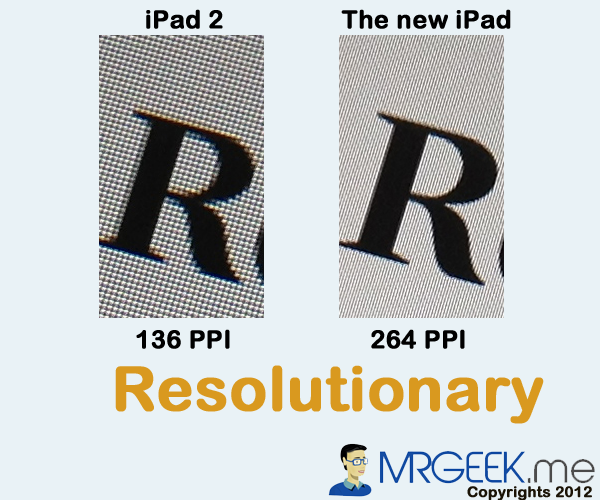 Cool, now what about the blacks? The blacks are an important quality indicator of any display device and one of the reasons some screens fare better than others. Lets look at the comparison between the iPad 2 and the new iPad black levels. As you can see, the black levels found using Photoshop's CS5 level feature yields the same graph for both devices. This suggests that despite a high PPI for the new iPad, the black levels seem to be the same as iPad 2.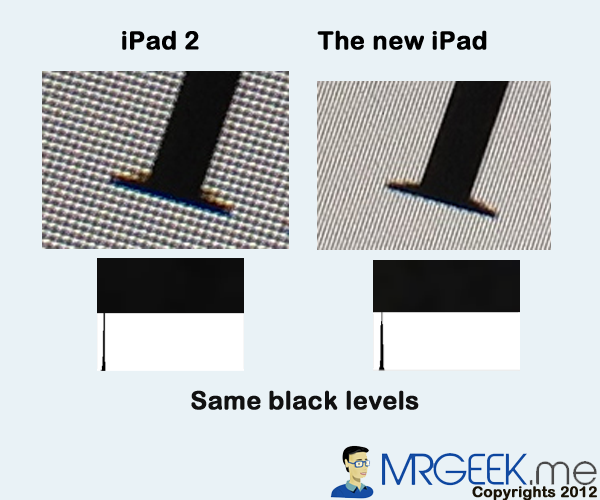 In conclusion, it can be said that the new iPad's screen is definitely a revolution in resolution, despite the black levels being the same. Apple also claims that the new iPad has more pixels than a top-of-the-line HD Television, which is really their unique selling point for this particular device alongside 4G LTE, 5MP camera and  a faster processor. If you like this short analysis from Mr. Geek or have any criticism, please use the comments section below. We hope you enjoyed this article. Let us know what you think of the resolutionary 3rd generation iPad.

Hi. I am Ali Gajani. I started Mr. Geek in early 2012 as a result of my growing enthusiasm and passion for technology. I love sharing my knowledge and helping out the community by creating useful, engaging and compelling content. If you want to write for Mr. Geek, just PM me on my Facebook profile.