If you're reading this, then maybe you're one of those people who do not like Facebook's "seen" functionality in their chat system. The "seen" feature allows users to know if their friends have read their sent message along with a read-time receipt (or timestamp).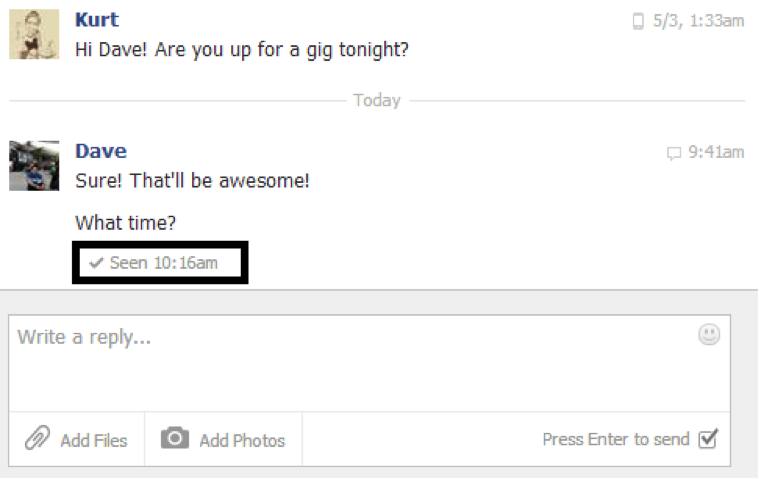 If you notice, there's notification right below the message with the timestamp. For most people, this is kind of annoying especially if you don't want the other party to know that you have seen their message. What if we are busy and don't have much time to reply? We usually just skip replying and will get back to it later.  But this "seen" feature will sometimes make our friends think that their messages are ignored because we did not reply.  It even sends the notification regardless of whether we have read the whole message yet or not.
So why would you want to bypass the "seen" feature? Well, there are various reasons; the most common is that people need privacy and they just don't want the other end to be notified. This idea caused some developers to craft a tweak to bypass this Facebook feature. The tweak prevents the script that Facebook is using to send a notification to senders.
How to Bypass
If you're using Google chrome, you can just simply install an add-on called Facebook Message Seen Notification Remover. Or you can click here for its direct link.

If you're using Mozilla Firefox, again, you need to install the same add-on to enable this feature.  You can click here to visit its Mozilla Firefox Add-on page.

After the installation, there is no need for you to configure the add-on. You can now read messages from friends without worrying for a "seen" notification.  We have tested this add-on on both Mozilla Firefox and Google Chrome for quite some time already and it works like a charm.

Hi. I am Ali Gajani. I started Mr. Geek in early 2012 as a result of my growing enthusiasm and passion for technology. I love sharing my knowledge and helping out the community by creating useful, engaging and compelling content. If you want to write for Mr. Geek, just PM me on my Facebook profile.