I must admit this before I say a word about Airtime – I have been lately procrastinating from writing a blog post. Well, isn't it obvious. Airtime is so damn addictive and I mean it. So what I am going to do now is give you a decent walkthrough of Airtime, in classic Mr. Geek style. Airtime is basically a web application that allows you to video chat with random people from around the world. Well, if you know what I mean, you probably would ask a couple of questions.
The obvious one: How is Airtime different from Chatroulette?
Airtime is different from Chatroulette  in two ways. Firstly, Chatroulette just pairs you up with random people from all over the world, with you or them having nothing in common. Airtime is different. It sure does pair you up with random people in a Chatroulette fashion, but it uses the data from your Facebook account (because you use Facebook to login to Airtime) such as your interests/likes to make the connection more personal. So, if you are a geek, there is a high probability that you will find plenty of geeks on Airtime more often. This element makes Airtime a lot cooler. Secondly, Chatroulette is very odd. Every now and then, you could expect adult elements to surprise you. However, on Airtime, you have the privilege to 'Report this user'.
The not so obvious one: Why would someone want to video chat with random people on the Internet?
It might seem awkward to network with random people on the Internet at first, however there are some interesting things that could be achieved. For instance, an entrepreneur has a high chance of bumping into another entrepreneur on Airtime and the network could result into a long lasting relationship. Sometimes one could even find 'that unique' co-founder they're looking for their new startup. The notion of networking with a random person having the same/similar skill set, idea, interest or knowledge is unarguably a positive thing. Long story short, the possibilites are endless, should you wish to explore.
Well, I don't know if I should say this, but I got a little cheeky. I used Airtime to market Mr. Geek. I did this by installing an app called Manycam and putting a banner on top showing some text and a link. In other words, it can be stated that Airtime can be potentially used a social media marketing tool, just like Twitter, Facebook or Google Plus.
The Airtime features
Airtime is without a doubt the simplest app you will ever use. To start off your adventourous journey of meeting with amazing people from all over the world, visit Airtime.com. You will be welcomed with a decent landing page. You now simply have to click the large green button that says 'Launch Airtime' and off you go. Upon clicking 'Launch Airtime', you will have to allow the app to access your Facebook information. Don't worry, Airtime will just access your location, name and likes.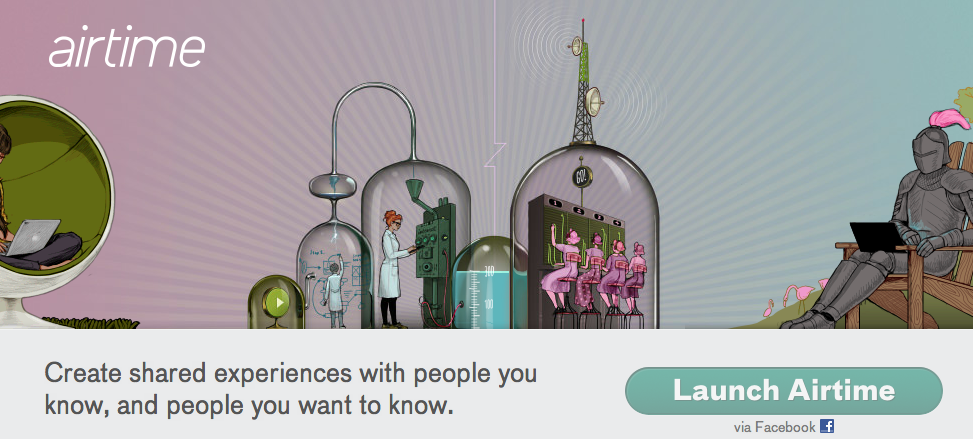 Once you are all set, you will see Airtime open up, as shown in the picture below. Yes, that's it. That is essentially Airtime. The main features have been annotated in white and blue (you may click the image below to enlarge). The main features are audio video chat, instant messaging, adding a person, skipping a person, ending calls and achievements. Let's talk about this more.
So basically, when you start connecting with people, the algorithm (the code) will pair you up with people who share the same interests as you. This is completely random. For example, as you can see in the picture below, Airtime paired us up with a anonymous person from an anonymous location. (Note that you can see the location and name once you add or accept a friend request and this doesn't add you both on Facebook, but it does show up in your Activity log so you can add him/her manually). As seen in the example below, the common likes between the person are Family Guy, Britney Spears, Katy Perry etc. This is one of the unique selling points for Airtime, a personalised conversation.
Other than that, you have the ability to instant message with that random person you just met on Airtime using the chat box on your right side. In addition, you can add a person or accept a friend request. The location and name details are shown once both accept the friend requests. This creates a healthy ecosystem. Moreover, if you believe the conversation is boring and dull, you can skip it by clicking 'Next' and Airtime will connect you with another random person. If it is not going well for you at all and you wish to take a break, just click 'End'.
Besides these features, Airtime allows you to award points to people who you think are interesting. You can do this by clicking the 'Star' button at the centre of your screen. You can award as many points as you want. Also, as you spend more time on Airtime, the system automatically increases your points. You can also give and get badges. I've spent quite a time on Airtime and people throughly enjoyed my conversations and I currently stand at a massive 21983 points with 22 badges.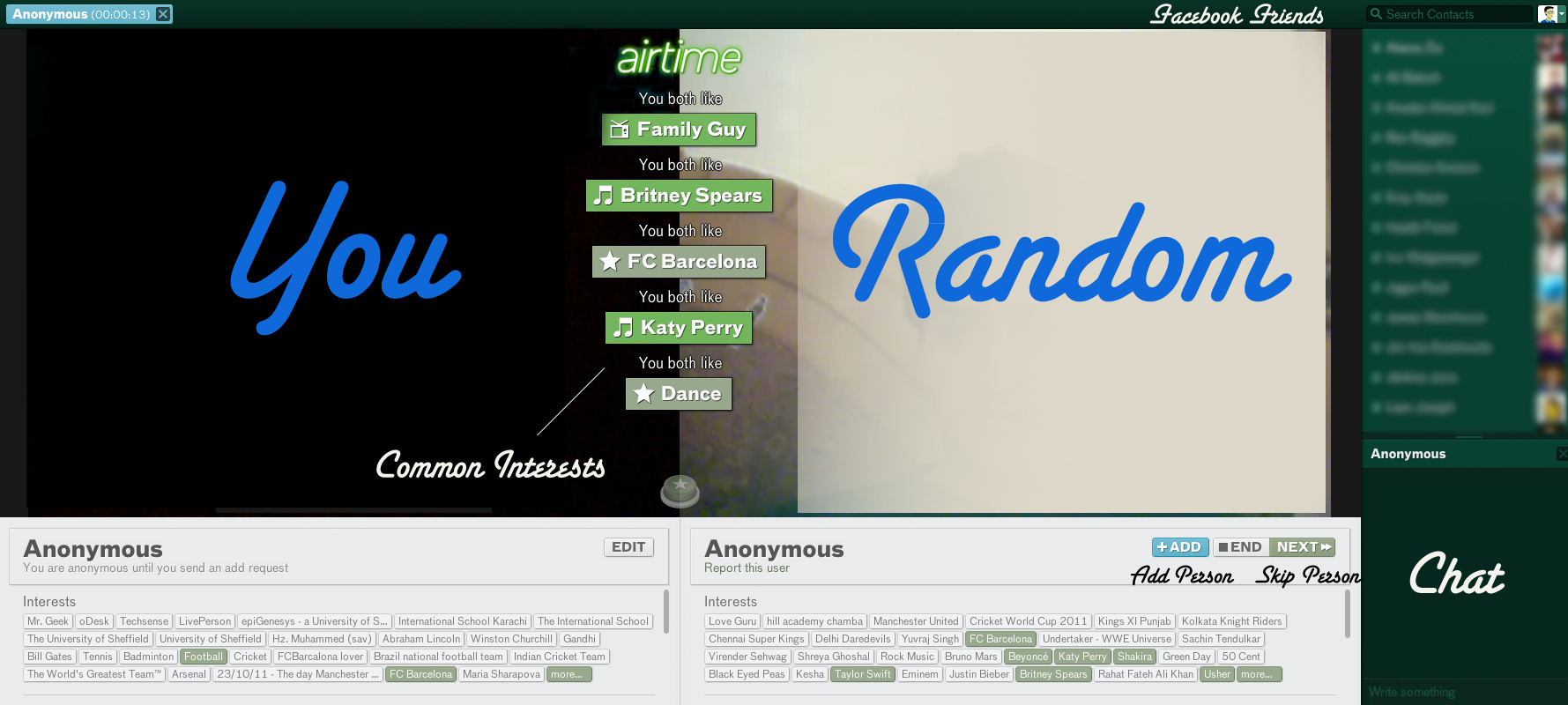 Some more interesting information
Airtime is a startup by Facebook billionaire Sean Parker (played by Justin Timberlake in the movie The Social Network) and his old time friend Shawn Fanning. One of the interesting things about Sean and Shawn is that they met on the internet over a hacker chat group 10 years ago and their friendship grew on from there. They both went on creating massive ripples in the technology industry with Napster etc. The point is, it's so ironic to see Airtime on one hand and the story of how Sean and Shawn met because they seem somehow related at the core.
How I met some interesting people on Airtime
During my long stint on Airtime, as you can see by the number of points I have amassed over the past week, I bumped into a lot of geeks. The two interesting things that happened to me on Airtime was meeting a Facebook Database Architect (Menlo Park), bunch of Apple interns and the Airtime development team itself (which I believe is pretty cool). Here are some of the screenshots to prove that. I will not disclose their facial identity whatsoever.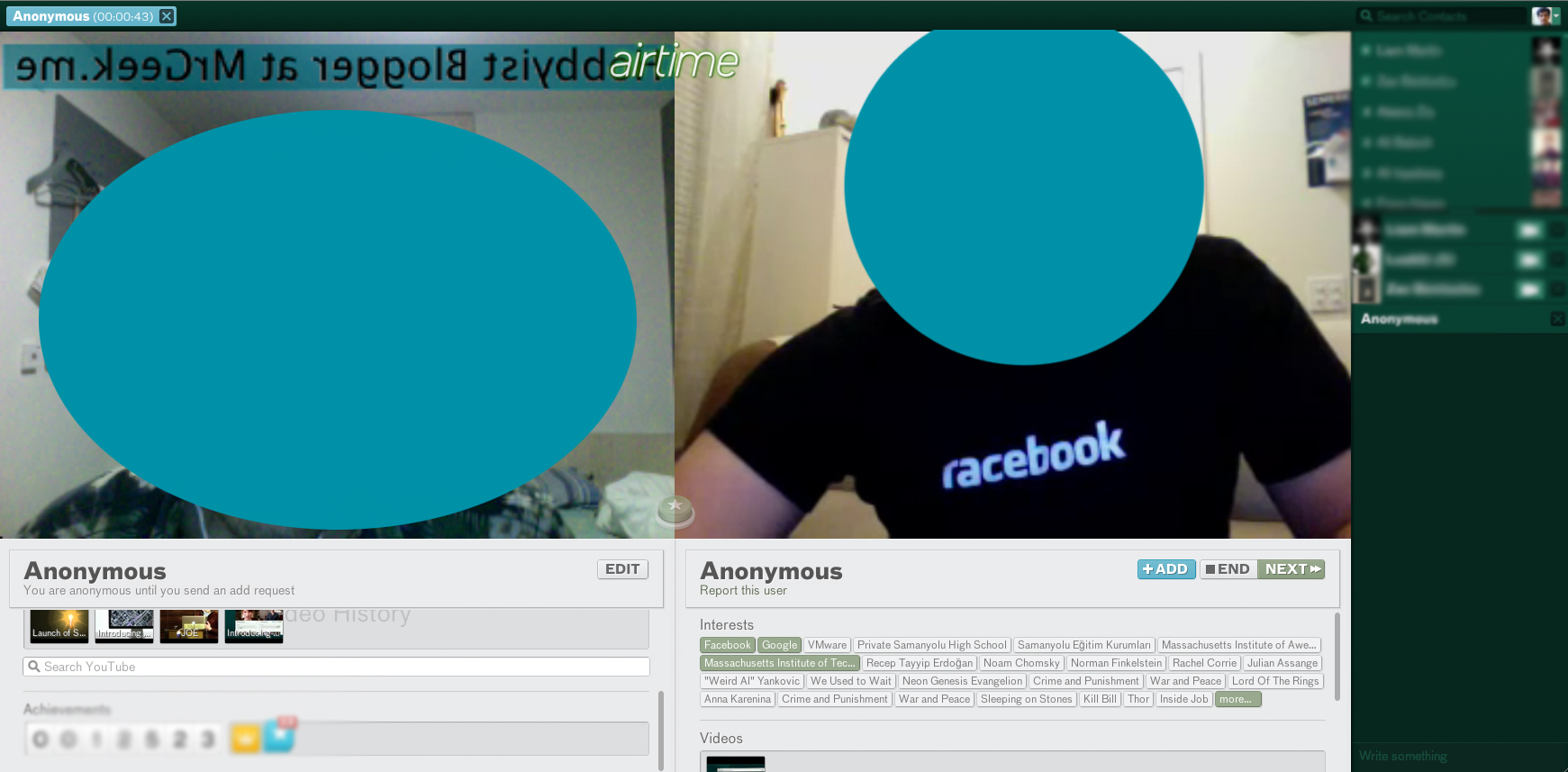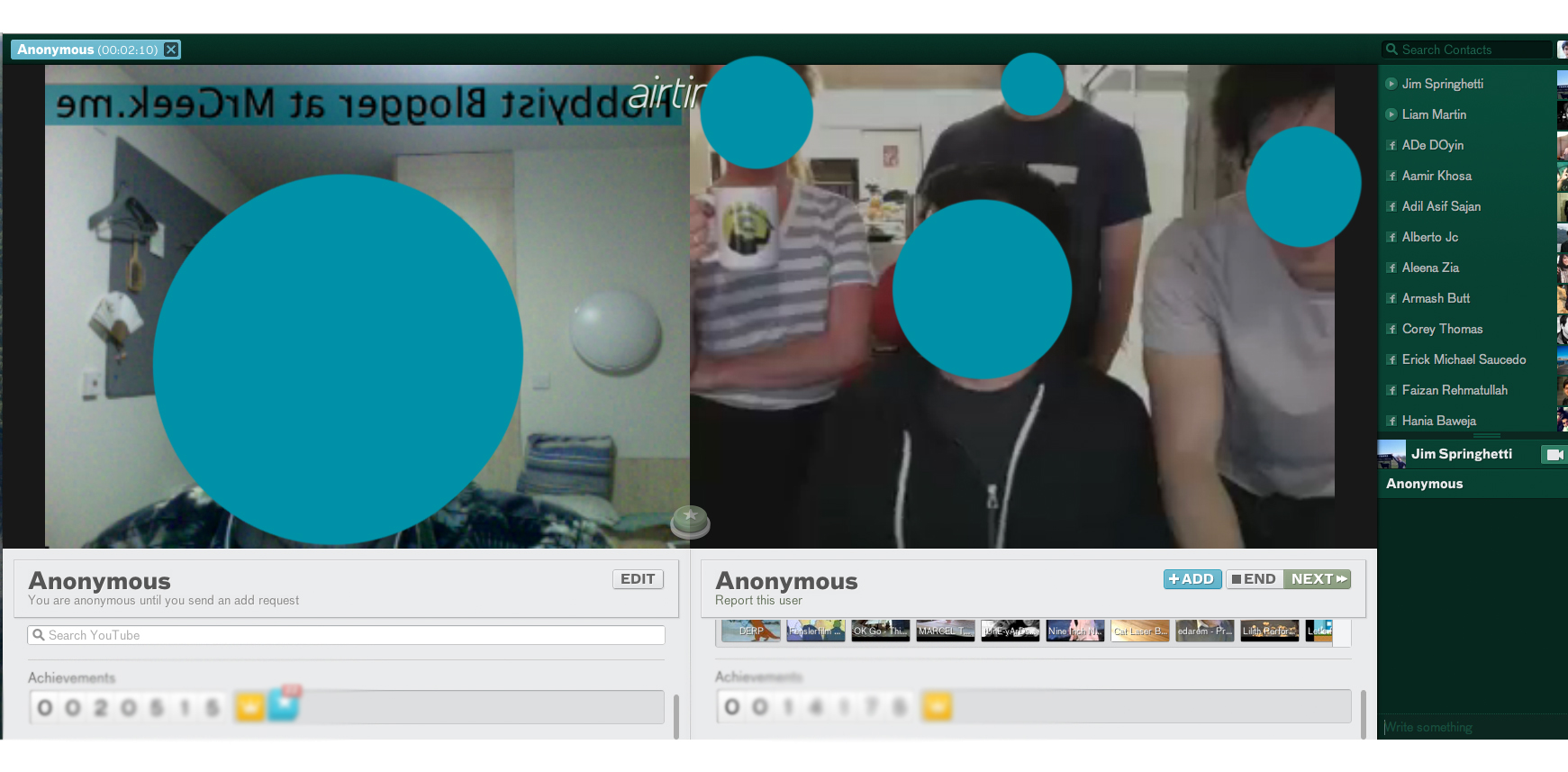 The final verdict
Overall, Airtime is cool. Addictive. Powerful. Awesome. Go, use it. Oh and don't try too much finding hot girls on Airtime, because now baby is a nerd party out there! And by the way, there have been Zuckberg and Jessica Alba sightings on Airtime already, so there is a chance you might, might just bump into them. But hey, if you are a geek like me, I am sure there is no best place to find your fellow friend on the web better than Airtime. It works. Good luck and let us know your experiences in the comments below.

Hi. I am Ali Gajani. I started Mr. Geek in early 2012 as a result of my growing enthusiasm and passion for technology. I love sharing my knowledge and helping out the community by creating useful, engaging and compelling content. If you want to write for Mr. Geek, just PM me on my Facebook profile.