If you administrate a Facebook page, you probably know how risky it was to add other admins—before today, all admins were created equal, and anyone who you added could go ahead and remove the original page creator. Now Facebook has added the ability to define permission roles for each admin.These two new features were a very welcome surprise for anyone who manages a Facebook page. Previously, page owners had to use services like Hoot Suite in order to selectively give out privileges and schedule posts in the future, but those services are often unreliable, and almost always come at a cost, which was inhibitive to small businesses and organizations without a marketing budget.
When you go to post a status update, you'll notice that the little clock in the bottom-left corner which previously only allowed us to set events in the past, will now accept dates in the future. You can specify when something should be posted down to the minute.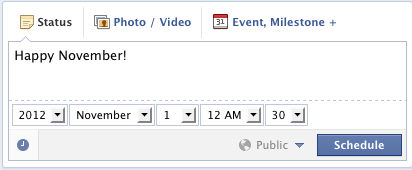 The second new feature, admin roles, is even more important. In the past, if you wanted to add a new admin, you had to be absolutely certain that the person was trusted. This posed a problem for companies such as some of the ones I work for who may have several different people responding to requests from fans, some of whom might not even work for the company.
It would be like if every new employee at a retail outlet were handed the master keys on their first day!
The "admin roles" screen has taken the place of the "manage admins" menu. If you click on "edit page" you can then click on "Admin Roles" on the left-hand column. You will notice that this screen looks very familiar, except for the addition of drop-down boxes which allow you to select a permission role. The different roles are listed below.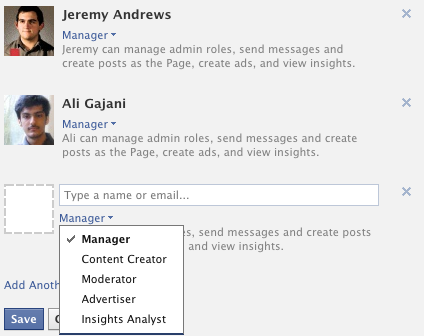 As you can see, there are five different roles: Manager, Content Creator, Moderator, Advertiser and Insights Analyst. The insights analyst only has the ability to view page insights, while the advertiser has this ability plus permission to create advertisements for the page. The moderator has both those permissions, plus they can reply to messages and timeline comments as the page.
Next, the Content Creator can do all those things, plus they have the ability to create posts and edit the page settings. Finally, the Managers have one extra ability: they can add/remove admins, or change their roles.
| | Manager | Content Creator | Moderator | Advertiser | Insights Analyst |
| --- | --- | --- | --- | --- | --- |
| Manage Admin Roles | ✔ | | | | |
| Edit the Page and Add Apps | ✔ | ✔ | | | |
| Create Posts as the Page | ✔ | ✔ | | | |
| Respond to and Delete Comments | ✔ | ✔ | ✔ | | |
| Send Messages as the Page | ✔ | ✔ | ✔ | | |
| Create Ads | ✔ | ✔ | ✔ | ✔ | |
| View Insights | ✔ | ✔ | ✔ | ✔ | ✔ |
Further reading: http://www.facebook.com/help/?page=394501407235259

Freelance PHP/MySQL developer, tech support guy, travel agent, transit photographer, and lover of poutine. Jeremy Andrews is a young guy from Montreal, Canada who enjoys writing about technology, can develop a website, and can do your travel arrangements! Contact him today at jeremy@jerail.ca for more info on any of these services.