Two days ago, we witnessed the second largest tech acquisition of all time, valued at $19.0 billion USD. Facebook acquired Whatsapp. What? A stunner, of the sorts that literally shocked the geek-o-sphere in all dimensions. Here are my thoughts about it.
Before I dive further, you might be curious what was the biggest tech acquisition of all time. Well, it was when HP gulped Compaq for $33.4 billion USD nearly more than a decade ago. So what's on my mind right now? Quite a few things and I am happy to share them with you.
Mark Zuckerberg's strategic move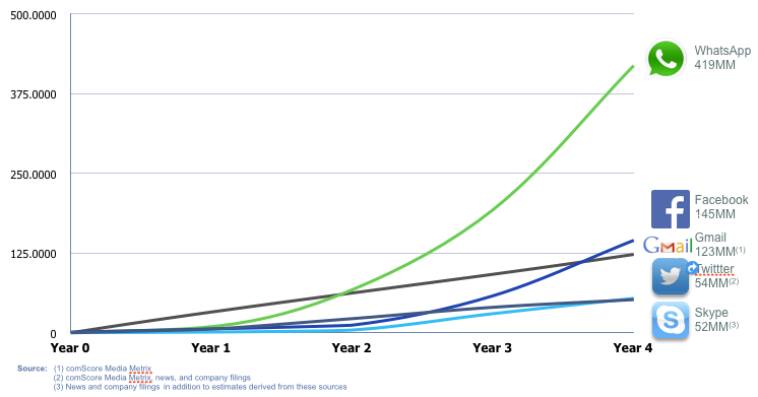 I've attached an image above. It effectively summarizes why Facebook acquired Whatsapp. Put it simply, Whatsapp has been one of the fastest growing software products of all time. Facebook gained a user-base of 100 million in 4 years, and Whatsapp, 4x user base in the same period of time. Trust me, if I were in Zuck's place, I'd be scared. Not because Whatsapp is a fully blown social network, but because with that growth rate, it could blossom into a juggernaut that could further suck user-engagement % away from Facebook.
Whatsapp boasts a high user-engagement rate and rapid growth, yes, faster than Facebook. In addition, Facebook's Messenger isn't that popular after all as more and more people flock to Whatsapp for real-time chatting. With this said, Facebook considered the app to be threat to its throne.  An acquisition is analogous to the colonization by empires. Empires that threaten other empires are not destroyed, but colonized. This is the same concept in the age of technology and it has served many companies well in the past, like Google, Apple and Microsoft!
I believe Mark has surely made a strategic move, that should be fruitful for Facebook in the long run. Also, the acquisition prevents another competitor from buying Whatsapp in the future. That won't happen now. Since Whatsapp will run as an independent brand, much like Instagram, there doesn't seem to be another reason for Facebook's acquisition apart from it being strategic in nature. It's more about the user base, and less about the technology! I am also curious to see the role of Big Data of Whatsapp playing a part in Facebook at some point in the future. Hint: Ads.
Is a new tech bubble upon us once again?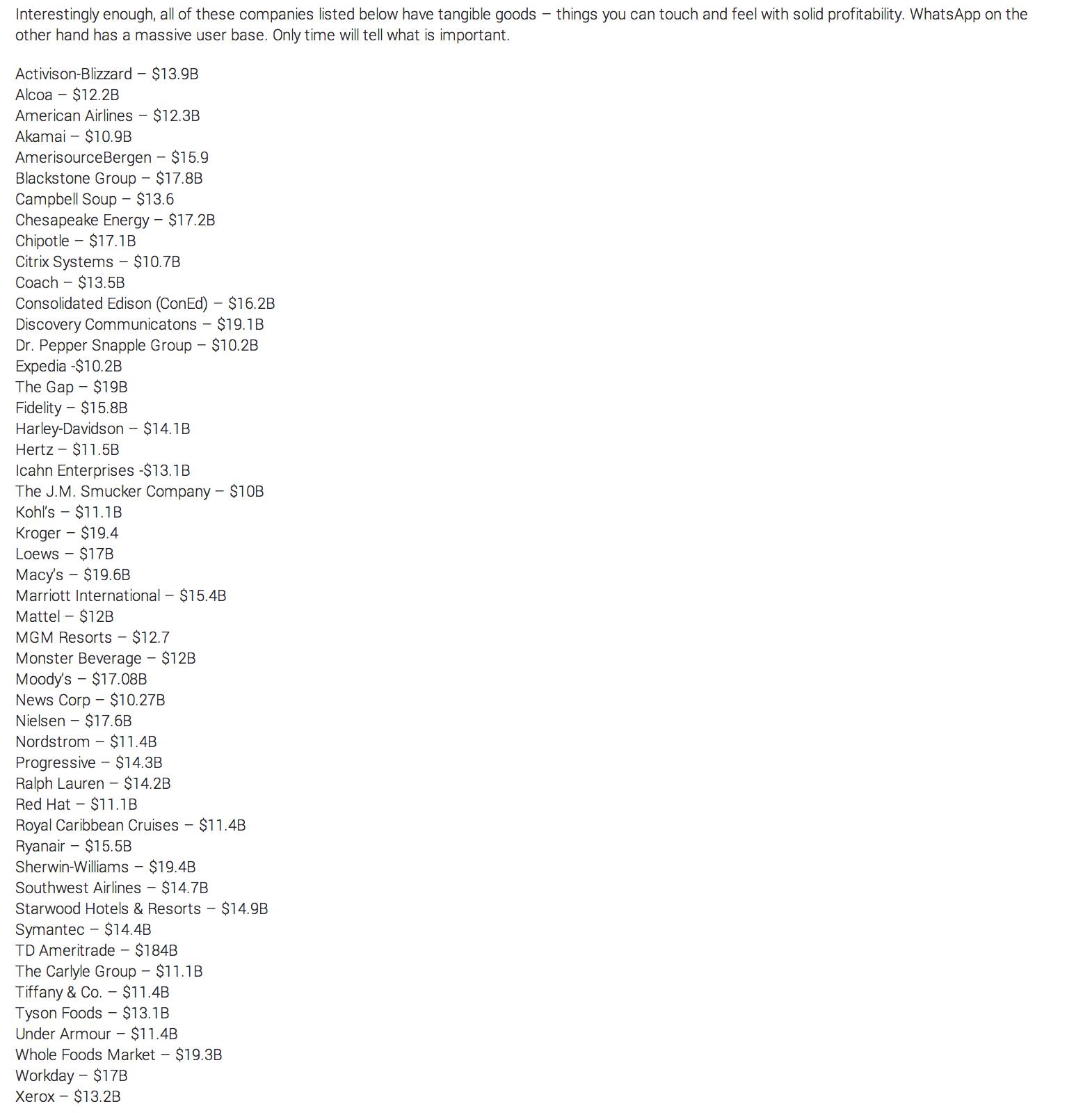 Telegraph UK has reported that tech M&A (mergers and acquisitions) is at an all time high since the dot com bubble at the start of the 21st century. Is a new tech bubble coming? First, with Snapchat being worth $3 billion (without making a penny), and now, the acquisition of Whatsapp, valued at $19 billion (which has no real business model). These are the signs of a new tech bubble. Why? Well, because the list of companies in the image above are clearly more valuable as a result of the revenue they generate. However an app, like Whatsapp, with half a billion users and no serious revenue or a model, is worth higher. The image above serves as a great example of why the new tech bubble has already begun to form.
Minimalism and Simplicity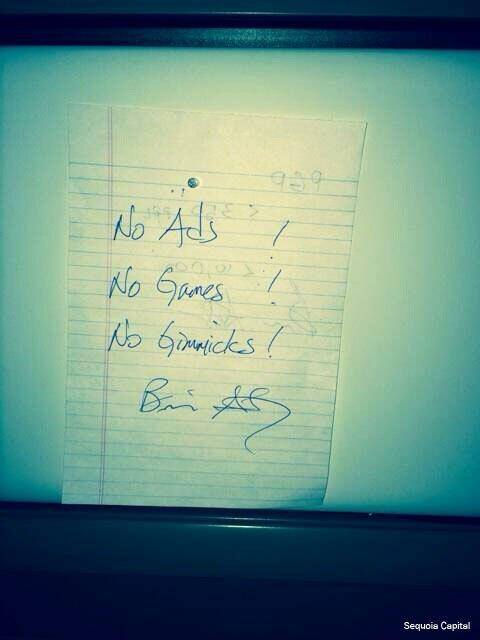 Whatsapp's acquisition is the result of it's growing user base of half a billion people across the globe. Its attractiveness is its firm belief in the KISS principle, which simply means, Keep It Simple Stupid. Whatsapp has a minimal design and a simple user interface that just works. Combine this with a low latency app, you get 450 million users in 5 years, with a $0 marketing budget. Isn't that amazing? I know it is and we as developers/designers have a lot to take from this. The image attached above is a note from Brian Acton's (co-founder) desk in 2009. It says, "No Ads, No Games, No Gimmicks". Boom.
What the acquisition means for the industry?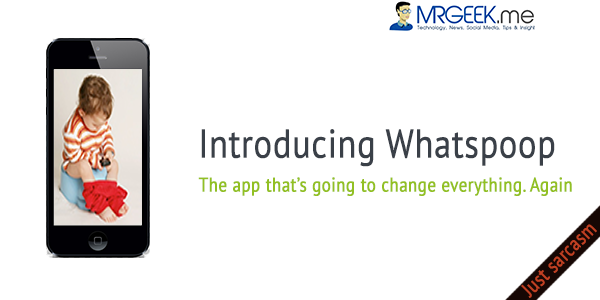 The Whatsapp acquisition could have negative repercussions on the tech industry. Think of it as this way. We have seen many apps with a great user base but an almost non-existent revenue, and some, without even a business model, yet they've raked up billions in valuation. Now, for once, I begin to think if this sort of activity in the tech industry will push some wanna-be entrepreneurs, or even mature entrepreneurs to go towards such a goal of building apps with out a real business model at the back, all for a quick buck. I am worried that this might saturate the market with a lot of low-grade apps and finally create enough vacuum to pop the bubble. Let's see!
Be positive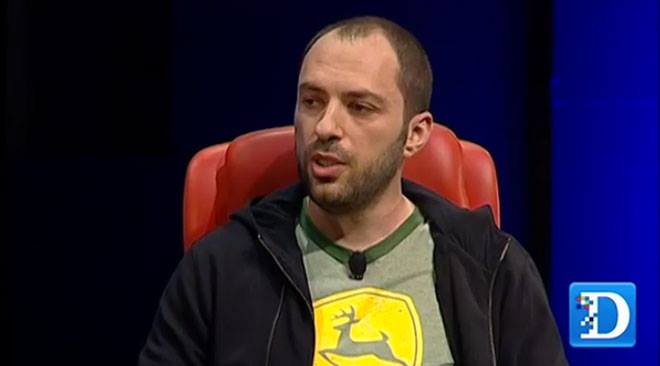 Everything aside, one of the great highlights for me from the Whatsapp acquisition has been two legendary stories that teach you why 'you should never give up'. Jan Koum (co-founder of Whatsapp) once used to wait in line to receive 'food stamps'. He was then a fresh immigrant from Ukraine. Now he's a multi billionaire. What's the take? Given you have a dream and an action plan to accompany it, you will succeed. The other story, of Whatsapp's co-founder, Brian Acton is told below, as an embedded post from my timeline.

Hi. I am Ali Gajani. I started Mr. Geek in early 2012 as a result of my growing enthusiasm and passion for technology. I love sharing my knowledge and helping out the community by creating useful, engaging and compelling content. If you want to write for Mr. Geek, just PM me on my Facebook profile.