This is a review of the 15 inch MacBook Pro with Retina Display. UPS just delivered my Mac 7 hours ago and I have been testing it on full throttle. In a nutshell, its the best notebook I've ever used. I know its expensive for some, but if you can afford it, you won't regret it ever. Guess what, the tech thats built into this monster is plainly good enough to last for the next 3 years. Want to find out more? Read my review below.
So before I proceed on revealing my findings, here are a few metrics that use to ease the reviewing process. These metrics are, in order:
In the Box
Design
Fan
Sound
Flash Architecture
Boot time
Display
Optics
Processor
Graphics
Potential Problems
In the Box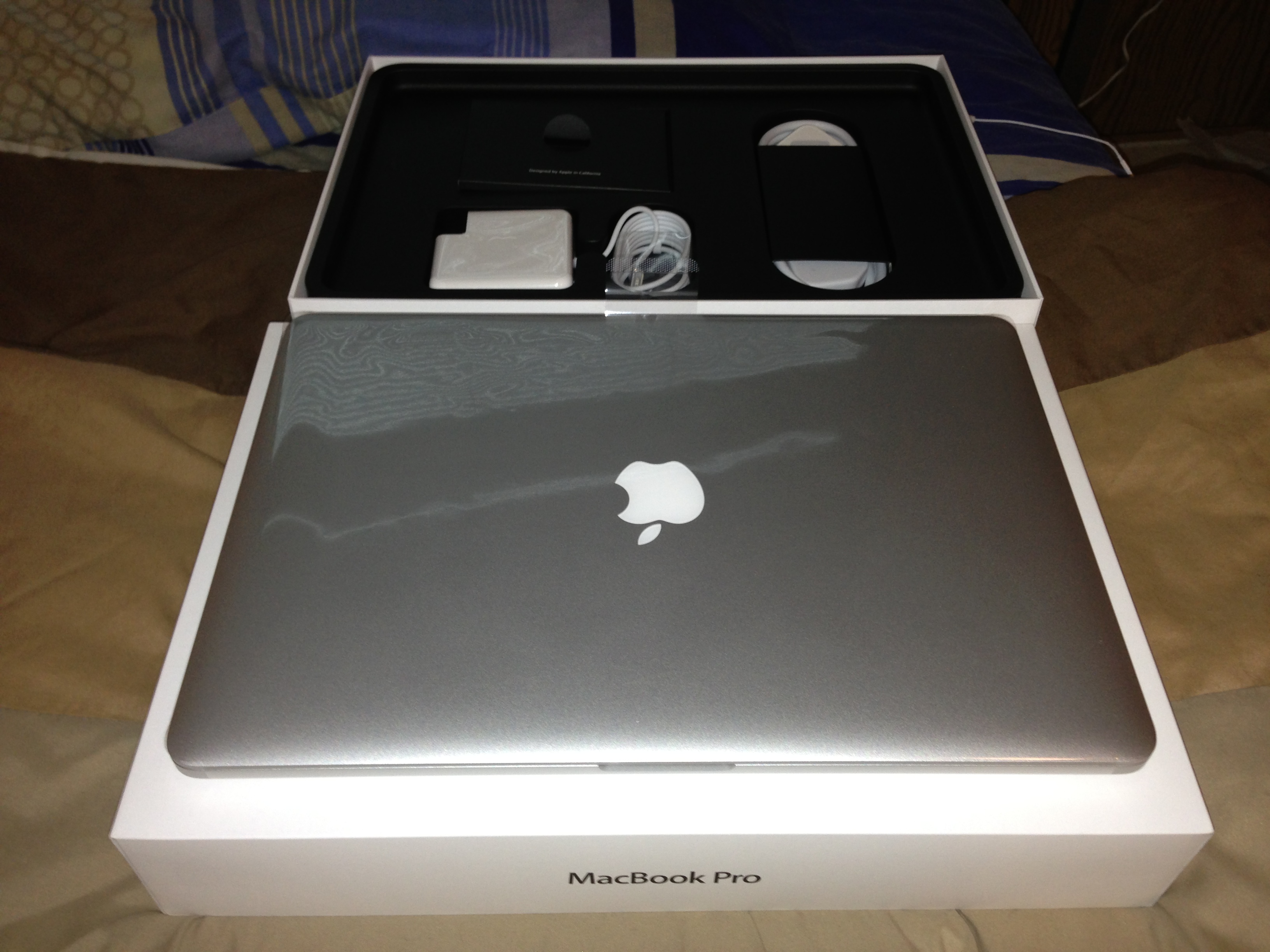 The box has 5 items. An extension cable, a MagSafe 2 Power Adapter, the manuals with stickers, an extra charging plug and of course, the gorgeous 15 inch MacBook Pro with Retina display. Oh and one thing that might be of interest to you is the MagSafe 2 Power Adapter. The charging pin that is used to charge the Mac is slimmer than previous versions, hence the name MagSafe '2′. This is a pretty obvious move by Apple to match the slim profile of the Mac's design.
Design
The Design has changed definitely. How? Because some things have been added while others have been removed. For example, there's now an HDMI port on the right side of the Mac. This is a first, and I believe is an excellent addition, which will be welcomed by many users for sure. The 15 inch MacBook Pro with Retina display is now 30% thinner than its predecessor, the MacBook Pro. Moreover, its a touch lighter too, at 2.3 Kilograms. This isn't as light as the MacBook Air though but it works! Also, the display and the glass are now glued together so the viewing experience is much more immersive. In addition, there are now 2 Thunderbolt ports, a first, and the fan grill is positioned at a different place.
Photo Gallery
Well, those were the additions. Now be ready to get pissed at Apple (I am not but some of you might be). Why? Because there are a couple of things removed as well. They might be critical to some but honestly, it hasn't effected me at all! So first, there is no disc drive for you to read/write your DVDs/CDs. However, what you can do is purchase a SuperDrive from Apple or use another machine to run your discs. But, ah, I can't remember the last time I used a DVD/CD. Even if I did, it was 1 year ago.
Secondly, the Ethernet port has been omitted. This again might be critical to some who do not have access to a Wireless hotspot at their workplaces, and yes, you have every right to be furious. But wait? You can spend a few more bucks and get a converter from Apple that does the job! If you can afford a Mac, you surely can afford a cable!
Third, the sleep light has been omitted from the front side. The philosophy behind this is simple: there's no need to visually determine when the machine has actually finished writing memory to disk before you move it, because there are no moving parts – you can just close it and go.
Finally, a minor change that will have no effect on your workflow is the placement of the MacBook Pro text – that now has been omitted from the front side and placed at the bottom.
Fan
The fan is super quite. Apple has re-engineered the fan, this time positioning the blades asymmetrically. This allows for a lower noise, contributing to near silence. However, the fan does kick in when you are doing more extensive tasks like gaming or video editing. Even then, its very quite and produces a calm, negligible noise. Kudos to Apple for this!
Sound
The sound is crisper and louder than before. Apple has re-engineered the speakers to project sound better, louder and crisper. You know words can't ever do justice to how good the sound is. So hear this SoundCloud clip and judge for yourself.
Flash Architecture
For the first time, Apple has deployed an all Flash Architecture on its MacBook Pro line. The 15 inch Retina MacBook Pro has no moving parts. Yes you heard that right. No moving parts. Except for the fan of course. The Flash architecture is in a move to up the ante on the performance and speed, by adopting to use the SSD or Solid State Drive (The ones you have in your iPhone, iPad).
Boot Time
The Retina MacBook Pro has a boot time of approximately 10.5 seconds. This is 40% faster than the previous Mac, the MacBook Pro.Why? Because of the All Flash architecture, featuring a SSD – flash just makes things much faster, hence the name 'flash'.
Display
Oh wait, let me welcome you this section of the review with a headline. "Stunning, gorgeous, mind blowing, best that has ever been." Yes. These words don't do justice to how great the screen is. I wish you could see it in person, and if you already have, you know what I am talking about. The Retina Display on the new MacBook Pro is simply the best display that's ever been on a notebook. If that doesn't sum it up, nothing will. Take a look at the figure below to see how the 15 inch Retina MacBook Pro stacks up with the competition (Kudos to The Verge for the statistics).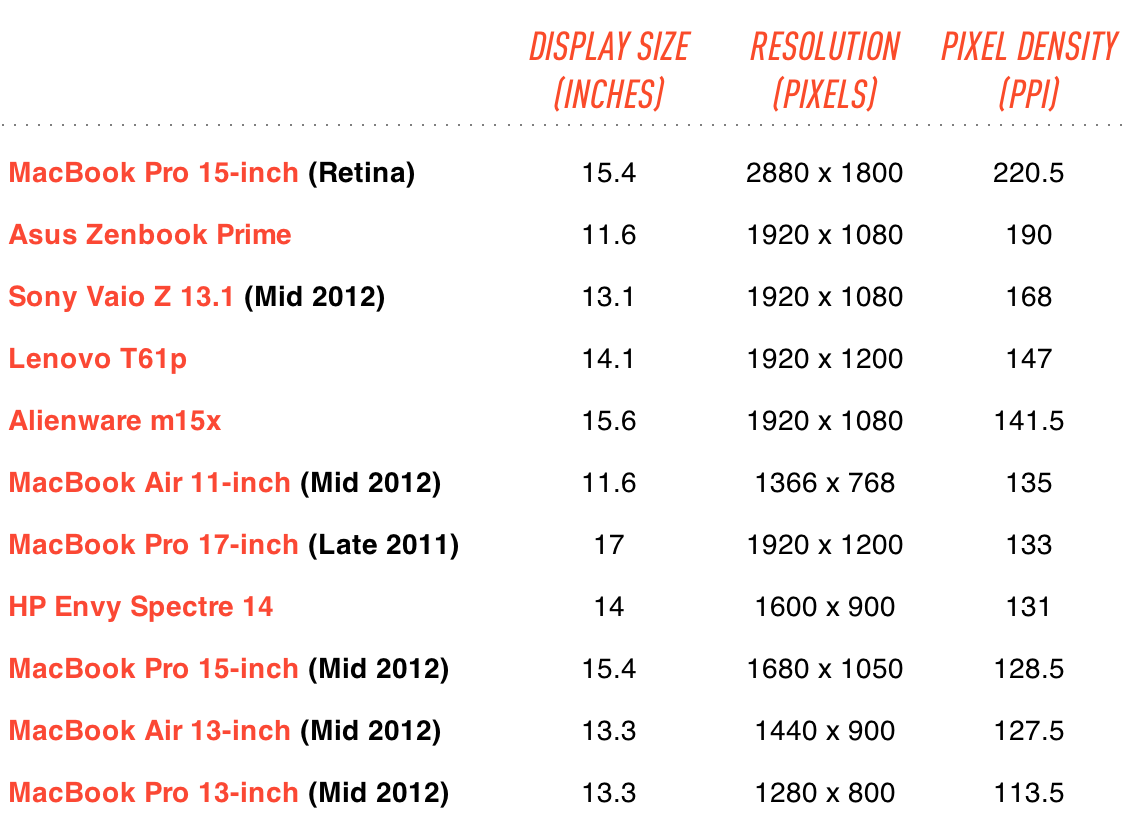 Optics
Seamlessly integrated into the display panel, the 720p Camera is ideal for Facetime. Not much to say about the camera besides this. It just works. I am a bit disappointed with the camera quality though. I was expecting 1080p by now. Well, moving on.
Processor
The 15 inch Retina MacBook Pro (base model, the one I have) boasts a 2.3 GHz Intel Quad-core i7 Processor. This is the first in the Apple MacBook Pro line to feature an Ivy Bridge processor, Intel's latest masterpiece. With this said, it gives you the fastest I/O (Input and Output) speeds of any machine you've ever used. This is of course in combination with an 8GB of 1600 MHz RAM and a 256 GB Flash Storage. One thing that might interest you is how many logical cores does the Mac OSX see. Even though there are 4 Physical processing cores, the Mac OSX sees 8 logical cores, thus boosting the performance by a considerable margin. A great computer is a marriage between the right set of engineering on the hardware and software sides. Apple has done just that!
Graphics
The Graphics on the 15 inch Retina MacBook Pro are gorgeous. Even if you get a base model, that's the highest GPU you'll ever get on a current MacBook Pro. The graphics card is a 1GB nVIDIA GeForce GT 650M, enough to run games like Battlefield 3, Assassins Creed, Batman and others. Even though I won't say the 15 inch Retina MacBook Pro is a gamers heaven, it is still powerful enough to handle anything you throw at it.
Potential Problems
The 15 inch Retina MacBook Pro is the best notebook that has been ever made. This is my verdict. Why? Because it encompasses the attributes of a near perfect notebook, such as, the design, graphics, processing power, display and a flash architecture. However, there are a few issues that you might face:
Lack of Disc Drive will hurt you if you are a heavy DVD/CD user.
Lack of ethernet might cause a big problem at locations where you don't have available Wireless hotspots.
Lack of Retina ready apps as of Late 2012 might cause a problem if you are getting one now. However, with time, more and more applications are expected to be Retina ready. Therefore, although this is a problem, it isn't a permanent one!
This is the least upgradeable computer on the planet. The SSD, RAM and other parts are soldered down to the board and if you are looking to upgrade your computer anytime soon, you better upgrade it the moment you are buying it! Yes that's right – on the Online Apple Store.
Even though Apple has advertised a battery life of 7 hours, I only got a 5.6 hours, with 80 % brightness and light usage. It's awesome though, but to some, it might be a problem.
That's it! Let us know what you think of the review in the comment sections below.

Hi. I am Ali Gajani. I started Mr. Geek in early 2012 as a result of my growing enthusiasm and passion for technology. I love sharing my knowledge and helping out the community by creating useful, engaging and compelling content. If you want to write for Mr. Geek, just PM me on my Facebook profile.